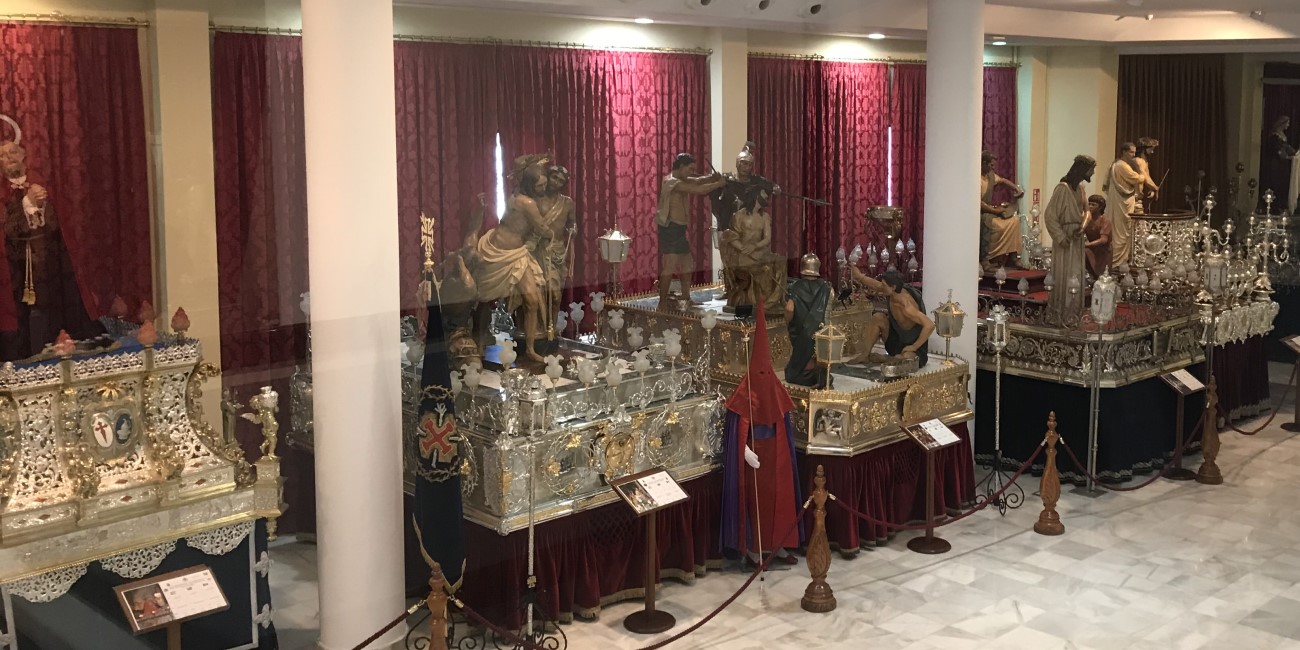 Orihuela is a city of around 80,000 inhabitants, located in the Vega Baja del Segura. In 1437 it was considered a city and in the 18th century it became the capital of the province for a few years. A city with a long history, it treasures a wide cultural heritage that well justifies a visit.
Holy Week in the city has a special significance both for the local population, who live it as one of its main traditions, and for the general public who, year after year, come to discover its celebrations. This celebration was declared a Event of International Tourist Interest in 2004. There are many outstanding elements of this celebration: the procession of the Santo Cristo del Silencio or the Song of the Passion, to give just one example.
We will address these issues in other posts on this blog. But today we want to look at the Museum of Holy Week, one of the largest museums of this type in Spain and, without a doubt, a must-see when one approaches the town. The museum belongs to the Junta Mayor de Cofradías,  Hermandades and Mayordomías of the city.
The museum was inaugurated in 1987 and, given its activity and the increase in its collection, it required an extension in 2004. It is located on the site of the Church of Nuestra Señora de la Merced, of which its façade still conserves. In total, more than 1,200 meters of permanent exhibition. It also has other dependencies that allow maintaining a wide dynamic of activity. It houses an important set of works of sacred art, with a chronology dating back to the 14th century to the present day.
The presence of important samples of religious sculpture stands out in the museum, among which we can find many of the images that procession in Holy Week. We find a long list of renowned sculptors, among which we can highlight Salcillo, Coullet-Valera, Sanchez Lozano, Victor de los Ríos, García Quint, Nicolás de Bussy or Antonio Greses among others. A sample without a doubt of great interest.
But we don't just find imagery in this museum. We also find the remarkable goldsmith works that we can discover in the thrones, coming from a large number of workshops throughout Spain.
The collection of paintings is also remarkable. We must highlight the presence of different works by the Valencian painter Senén Vila, born in the capital of Turia in 1639. Around 1670 he spent a season in Orihuela, to finally settle in Murcia. In the museum we can contemplate an Inmaculada Concepción, a subject that the painter would address on different occasions.
In addition, the museum brings together a collection of posters announcing Holy Week since 1947. An opportunity to learn about the perception and the way of seeing representing Holy Week during the last 70 years. Undoubtedly a different way of approaching to understand this celebration.
The ideal is to experience Holy Week in Orihuela at the time; feel it in its streets, participate in the devotion of neighbors and members of the brotherhoods. But a visit to the museum will allow us to get closer to this reality, it will make it easier for us to understand how Easter is lived in the city and to enjoy an excellent collection of works of art. A highly recommended visit.
More information in:
http://www.semanasantaorihuela.com/index.php/museo/1-museo/el-museo
https://www.orihuelaturistica.es/orihuela/web_php/index.php?contenido=fichaComercial&id=54&idContacto=3&mode=list&order=asc&idNivel=
En este video tiene un amplio reportaje sobre el museo
https://www.youtube.com/watch?v=rHYyOHQYAaM
MUSEUM DATA:
Address: Plaza de la Merced 1. Orihuela
Phone: 966744089
Web: www.semanasantaorihuela.com/index.php/museo/1-museo/el-museo
Email: juntamayor@semanasantaorihuela.com
VISITING HOURS:
Due to the special circumstances of these months, it is advisable to call in advance to check the circumstances of the visit. In normal periods the schedule is as follows:
Tuesday to Saturday from 10am to 2pm and from 4pm to 7pm.
Sundays from 10am to 2pm.
Holidays closed or check with the museum.
Group bookings 966 744 089.
From June 1 to September 30, the afternoon hours are from 5:00 p.m. to 8:00 p.m.
ENTRY PRICE: € 2.
Photographs taken from the website of the Orihuela City Council and the website of the museum itself